Lyman, ME | (207) 499-2989
Winter puppies
Ellas pups are all gone home.  All of Luca's pups will be gone as of Friday and Lucy's are just 3 1/2 weeks old. 
Pinto was bred last week so hopefully we will have new pups in 8 weeks. This will be first litter of potentially all parti pups. It will be so exciting watching each of them arrive. I cannot wait to confirm her pregnancy.
In two weeks two of my up and coming girls, Abi and Sami will go in for their health testing to finalize their being in our program. 
Keep an eye out for our parti litter in two months and for announcements of Sam and Abi's test results and photos.
Viewer Comments
Upcoming Litters
Litters planned for 2019
Lucy and Gunner born 4/1/19
Abby and Raphael due 4/23/19
Luca and Gunner due June 3rd
Sammi and Gunner June 13th
Poppi Summer 2019
---
Check Back Again for More Labradoodle Puppy Announcements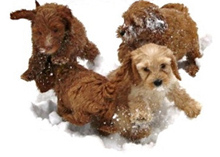 "There is no psychiatrist in the world like a puppy licking your face."
–Bern Williams
Read Testimonials »