Lyman, ME | (207) 499-2989
Spring must be in the air
Lucy's last two pups left today for their new homes. I am so blessed to be able to provide families with such amazing pets. Both the pups that left today were so sweet and gentle. We will miss them running around the house. Lewi will miss them most of all. They were his constant companions.
Pinto has her xray tomorrow at 5 and we will find out how many she is having. She could have her pups anytime from Wednesday to Monday the 19th. I expect parties in apricot, brown and black.
Abby has her songram scheduled for Thursday the 15th at 3:30. So she would be due around April 16th.
We will have a busy Spring at SML.
Viewer Comments
Upcoming Litters
Litters planned for 2019
---
Check Back Again for More Labradoodle Puppy Announcements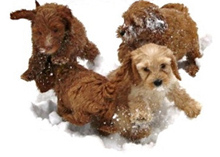 "There is no psychiatrist in the world like a puppy licking your face."
–Bern Williams
Read Testimonials »