Lyman, ME | (207) 499-2989
Abby had her puppies
This am after a good night of sleep Abby was panting and whining for attention. Luca got on the couch with her and was comforting her. So adorable to watch. I went out to grab a cup of coffee and a bagel. When we got home my daughter said Abby is licking she must be getting close. I walked over to Abby who was sitting in my recliner (the only cloth furniture in my living room.)and there was a puppy nursing.  We brought her whelping box into the livingroom, transfered her and the pup into the box.
Luca sat at a safe distance and watched.  She checked on Abby and the pups but left them alone.
She quickly had 2 more. Her mom and one of her human boys came over. They petted her and gave her lots of love. Abby got some ice cream. After an hour rest she had her final 2 pups. She did so amazing all 5 in 2 1/2 hours.
Boy boy
Pink girl
Green boy
Orange boy
Yellow boy
Viewer Comments
Upcoming Litters
Litters planned for 2019
---
Check Back Again for More Labradoodle Puppy Announcements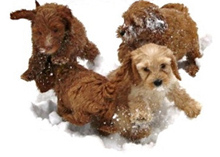 "There is no psychiatrist in the world like a puppy licking your face."
–Bern Williams
Read Testimonials »