Lyman, ME | (207) 499-2989
Puppies everywhere
Thursday I sent my Lewi to his new home. After being with me for 7 months we had a bond like no other. It broke my heart to watch him drive away with his new mommy and daddy, but I know he will be loved and spoiled by them. I miss him and have cried more then I think is normal.  It will get better.  This is one of the parts of this business that I can't handle, the love you have for these animals and having to say see you later.
Abby's pups will start on food on Sunday. The families start their visits on Saturday and it will be so good for them to get lots of attention over the next couple days. They are just coming out of their shells. They seemed to hold onto their shyness about a week longer then the pups usually do. Today they were happy to see me and we played on the floor for a while. I love this age when I can really start spending time with them and getting to know each of them individually.
I want to remind everyone that a puppy is a puppy. They will test thier boundries. How we react to it detemines how they will react to it. Please always be the alpha in your pack. Most dogs don't like being the Alpha and will do it because they feel they have to or feel they can get away with it so will push harder and harder. Don't let that happen. A little puppy that growls is very quickly and pretty easiely corrected. So correct them when they are young and you will reap the rewards of a long and happy respectful realationship. 
Have a safe and happy Memorial day weekend.
Viewer Comments
Upcoming Litters
Litters planned for 2019
---
Check Back Again for More Labradoodle Puppy Announcements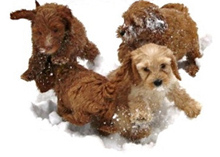 "There is no psychiatrist in the world like a puppy licking your face."
–Bern Williams
Read Testimonials »