Lyman, ME | (207) 499-2989
Springtime in Maine
Pintos pups are on solid food and loving it. They are playing and just so much fun right now. Their littel personalities are sure shining thru.  I love this age because they can spend time with the family in the living space and I really get to know them.
Abby's litter is 3 weeks old and doing great. Everyone is plump and healthy.
Luca Had her sonogram on Thursday and is expecting 5 puppies June 1st. We are so excited. It will be crazy busy but just the way I like it.
Viewer Comments
Upcoming Litters
Litters planned for 2019
Lucy and Gunner born 4/1/19
Abby and Raphael due 4/23/19
Luca and Gunner due June 3rd
Sammi and Gunner June 13th
Poppi Summer 2019
---
Check Back Again for More Labradoodle Puppy Announcements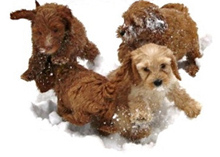 "There is no psychiatrist in the world like a puppy licking your face."
–Bern Williams
Read Testimonials »