Lyman, ME | (207) 499-2989
Summers here
It is a very busy and exciting time here in Maine. My daughter (who was just 2 when I started this journey of breeding) is now 18 and graduating High school. She has accomplished so much, National EMT, Fire science certificate/ with high honors and off to college in a couple months for Perimedicine. So beyond proud of her.   
Two litters on the ground. One is 7 weeks and one is 1 week. Everyone is healthy and doing great. Luca as usual has stepped into motherhood easily and her babies are thrieving.  Abby's pups are big, fun and so cute. Exploring life and loving all attention. All puppies from these two litters are sold
Sami will be bred this coming week and we hope for pups in early August. 
I am unavailable from June 22 thru the 24th for her graduation celebration.
I will also be unavailable from July 18th to the 30th. Taking a  much needed vacation with my daughter and another mother and daugher. 
Enjoy this Summer. Remember to have fun, embrace family time and enjoy the little things in live.
Viewer Comments
Upcoming Litters
Litters planned for 2019
Lucy and Gunner born 4/1/19
Abby and Raphael due 4/23/19
Luca and Gunner due June 3rd
Sammi and Gunner June 13th
Poppi Summer 2019
---
Check Back Again for More Labradoodle Puppy Announcements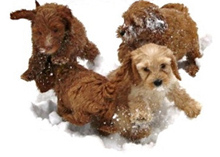 "There is no psychiatrist in the world like a puppy licking your face."
–Bern Williams
Read Testimonials »