Lyman, ME | (207) 499-2989
Babies coming
The last two months without puppies I have accomplished a lot. Been sewing up a storm making blankets, bells, bandanas, bowties and toys. Lots of stuff being made for the upcoming litters and beyond.
Wednesday Moxie went to the vets and had her sonogram. She and Raphael are definatley expecting puppies eary December. Dr Lynch counted 5. We will do a final count first week in December right before they are born. I am so excited to meet this new group of little redheads. 
As of now she is the only one pregnant. Keep an eye on this blog for updates on upcoming litters.
Viewer Comments
Upcoming Litters
Litters planned for 2019
Lucy and Gunner born 4/1/19
Abby and Raphael due 4/23/19
Luca and Gunner due June 3rd
Sammi and Gunner June 13th
Poppi Summer 2019
---
Check Back Again for More Labradoodle Puppy Announcements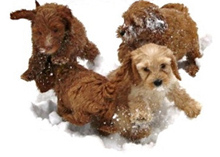 "There is no psychiatrist in the world like a puppy licking your face."
–Bern Williams
Read Testimonials »