Lyman, ME | (207) 499-2989
Moxie is delivering
Moxie had her first pup at 8:50 a boy. Blue collar
9:40  boy green collar
1016 girl pink collar
She is doing amazing. We are delivering at her home because momma can't bear for her to leave. This family is amazing and I trust them completely. Moxie took right to delivery and motherhood like a champ.
10:45 girl purple
Moxie is resting and taking care of her babies. It could be awhile before the next one comes. After 2 1/2 hours of complete rest for momma she started having contractions.
1:14 girl orange collar
6th pup was a girl also
Everyone is doing great.
Viewer Comments
Upcoming Litters
Litters planned for 2019
Lucy and Gunner born 4/1/19
Abby and Raphael due 4/23/19
Luca and Gunner due June 3rd
Sammi and Gunner June 13th
Poppi Summer 2019
---
Check Back Again for More Labradoodle Puppy Announcements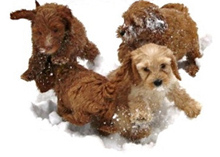 "There is no psychiatrist in the world like a puppy licking your face."
–Bern Williams
Read Testimonials »