Lyman, ME | (207) 499-2989
Lucy had her pups
April first Lucy woke up and was restless and panting. Around 8:30 she started panting and pacing, acting uncomfortable. Tried to put her in the birthing room but she wanted nothing to do with it. So I set up her whelping box in the livingroom surronded by gates.
10:55 Pink girl. very easy delivery
12:07 Blue boy. she rested and took care of pink while waiting for blue to make his apperance.
12:25 Purple girl
1:27 Yellow girl
All pups are doing great and Lucy is a champ. They are still in the livingroom and will most likely get moved tomorrow.
Viewer Comments
Upcoming Litters
Litters planned for 2019
Lucy and Gunner born 4/1/19
Abby and Raphael due 4/23/19
Luca and Gunner due June 3rd
Sammi and Gunner June 13th
Poppi Summer 2019
---
Check Back Again for More Labradoodle Puppy Announcements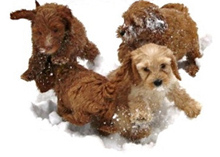 "There is no psychiatrist in the world like a puppy licking your face."
–Bern Williams
Read Testimonials »