Lyman, ME | (207) 499-2989
Abby had her babies
My daughter and I were going on a mini vacation, so Abbi stayed with her mom while we went away last week. Karina and I left on Monday and Abby was doing great. Vet checked her before we left and said babies heartbeats were strong and momma looked good so home she went. Tuesday evening the 30th I got a text that Abby was in labor. She had all three in less then 2 hours and it was smooth and easy. Everyone is settled now and doing great. Pictures are on the puppy page.
Pictures of Lucy's pups will be up tomorrow.
Luca had her sonogram and she is having 5 or 6. I am going with 5 sence that is what she had last time.
Sammi going in on Thursday for her sonogram to confirm pregnancy.
Miss Poppy is in heat so will be be bred in a week.
Busy Spring here in Southern Maine.
Viewer Comments
Upcoming Litters
Litters planned for 2019
Lucy and Gunner born 4/1/19
Abby and Raphael born 4/30/19
Luca and Gunner due June 3rd
Sammi and Gunner June 13th
Poppi Summer 2019
---
Check Back Again for More Labradoodle Puppy Announcements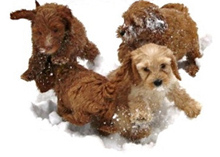 "There is no psychiatrist in the world like a puppy licking your face."
–Bern Williams
Read Testimonials »