Lyman, ME | (207) 499-2989
Poppi is having babies today
We had a long and sleepless night. She put herself into the whelping room at 7 pm and got into the whelping box. No signs of contractions, just lots of licking. Her water started leaking around 11 and continued thru the night. She was resting good between bouts of licking like crazy. I gave her some Stella and Chewy's Lamb meal mix ins around 5. She started pushing at 5:30.
5:40am Boy (blue collar)
she worked a harder for pup 2
6:10 Boy (red collar)
6:22 Boy (yellow collar)
6:52 Boy (Green collar)
oh boy! Lets hope the next two are girls.
7:04 Boy (black collar)
Well I hope all the families are okay with boys, because boys it is. 1 more to go.
7:25 boy (brown collar)
Poppi's last litter she had 4 boys and this time 6. So I guess she can't make girl babies.
momma and babies are resting and doing great.
Viewer Comments
Upcoming Litters
Litters planned for 2023
Winnie /Archie (8 WEEKS OLD 2 GIRLS AVAILABLE)go home July 22nd

Maple/ Archie Born June 12th (5 WEEKS OLD. 3 AVAILABLE) go home August 11th

Stella /Fall - Winter

Maya/Fall - Winter

---
Check Back Again for More Labradoodle Puppy Announcements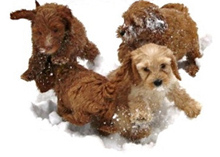 "There is no psychiatrist in the world like a puppy licking your face."
–Bern Williams
Read Testimonials »