Lyman, ME | (207) 499-2989
The time has come for puppies
Sookies is finally in active labor. She has been in labor sence early is morning. I'm talking 2 am. The whole in and out cleansing, panting and pacing. She started fluffing up her bed and baring down. So I opened the deliveryroom door and she ran in and jumped into the whelping pool.
Lets hope pups arrive before dinner time. I will keep you updated by just adding on to this blog.
1:05 first pup black boy with white toes and white bib
1:32 girl looks sable or phantom. Not really black yet not brown. Very unique color. (looks brown today 4/16)
1:44 Apricot girl actually I think she is red
2:16 apricot boy
Two more to go. Sookie is doing amazing.
2:31 boy grayish black with white toes, chin and chest (ok he is brown)
2:50 girl black with white toes, chest
Mom and babies are doing great. resting and nursing. I will post a picture soon. Good job Sookie and Miles. Beautiful babies
Just want to point out that Sookie gave us three different colors for pups, two apricot, two chocolate and two black, with one of each gender.
here are the babies and a very tired mom.
Viewer Comments
Upcoming Litters
Litters planned for 2019
---
Check Back Again for More Labradoodle Puppy Announcements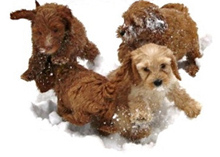 "There is no psychiatrist in the world like a puppy licking your face."
–Bern Williams
Read Testimonials »