Lyman, ME | (207) 499-2989
I love meeting new Families
Yazmen's "Green Boy" went home today. Colleen and Justin came to meet him, stayed for 2 hours and fell in love. I so enjoyed watching the intereaction between them all. THe grandparents were even here and gave my older dogs much needed scratches and love. We did paperwork and he went home. What a lovely family they will be for him.  He is such a cuddle bunny and will fill them with love.
Pink girl leaves tomorrow and White and yellow go home on Sunday. Busy weekend here.  I love the hustle and bussle of puppies going to their new families.
Tootsie move in yesterday to have her litter. Xray says there are only 4. This is the first time I have ever had a litter under 5 puppies. Bet she waits until Tuesday to have them.
Time to go finish paperwork. 
Viewer Comments
Upcoming Litters
Litters planned for 2019
Lucy and Gunner born 4/1/19
Abby and Raphael due 4/23/19
Luca and Gunner due June 3rd
Sammi and Gunner June 13th
Poppi Summer 2019
---
Check Back Again for More Labradoodle Puppy Announcements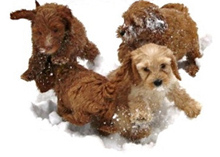 "There is no psychiatrist in the world like a puppy licking your face."
–Bern Williams
Read Testimonials »