Lyman, ME | (207) 499-2989
Sookie puppy assignments are done
Finally have finished puppy assignments. I just know that everyone of these pups will make their new families so happy. They are so full of love to give. THis litter has been a joy and I will miss them when they leave in a couple weeks.  Following is the placement:
Brown Boy - the Smith family
Brown Girl  - Genthe
Black Boy - Shapiro family
Sable Girl - Taglieri family
Tan boy - Brandwein
Apricot girl - Wing family
New pictures to be posted tomorrow.
Viewer Comments
Upcoming Litters
Litters planned for 2019
---
Check Back Again for More Labradoodle Puppy Announcements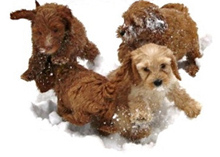 "There is no psychiatrist in the world like a puppy licking your face."
–Bern Williams
Read Testimonials »