Lyman, ME | (207) 499-2989
On the mend
Finally starting to feel normal again. It has been three days sence my dental surgery and the pain is getting more tolerable.  Tomorrow we will do photos of Tootsies pups for the website and bath Shirleys pups for their big visit to the vets. Tuesday the go in for their exams and surgeries. Everyone except tan and pink.
Tootsies pups are so big, I think they are as big as Shirleys. I will do weights on them tomorrow to so we can compare Shirley's and their weights on Tuesday.
Sookie is back to her prepuppy self. Playfull and in great shape. Honestly you would never know she had puppies.  I have a great picture my daughter took of her today that I will put on the blog tomorrow.  
Viewer Comments
Upcoming Litters
Litters planned for 2019
Lucy and Gunner born 4/1/19
Abby and Raphael due 4/23/19
Luca and Gunner due June 3rd
Sammi and Gunner June 13th
Poppi Summer 2019
---
Check Back Again for More Labradoodle Puppy Announcements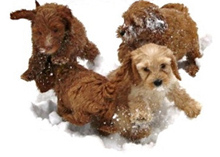 "There is no psychiatrist in the world like a puppy licking your face."
–Bern Williams
Read Testimonials »