Lyman, ME | (207) 499-2989
Maggie went home today
Maggie stayed here with us for a week while her family went on a vacation. She was so much fun to have in the house. SHe is about 35 lbs and tall, so her trying to play with little Auggie was a supervised event. She wanted to play with him so badly, but he would get scared. He is only about 7 lbs right now so she is a giant next to him.
Auggie has only had one accident in the house today, way to go Auggie/Ozzy. He got very mad at me when I went downstairs to do laundry. He was barking at the door the whole time I was down there. When I came back up he danced around like I was the best thing in the world. So I started working on closed door + silence = mom comes back. We will get these closed doors to be acceptable by the end of this week.
He is still healthy and has no signs of seizures or any problems. I guess I will have to stress to new families to not let their vets do more then two vaccines/meds in a 24 hour period.
 One more big announcement. We purchased a new stud boy. He will be a  medium so we will have good size mediums at the end of 2013.  I will post pictures and his name soon.
Viewer Comments
Upcoming Litters
Litters planned for 2019
Lucy and Gunner born 4/1/19
Abby and Raphael due 4/23/19
Luca and Gunner due June 3rd
Sammi and Gunner June 13th
Poppi Summer 2019
---
Check Back Again for More Labradoodle Puppy Announcements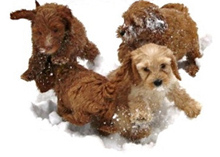 "There is no psychiatrist in the world like a puppy licking your face."
–Bern Williams
Read Testimonials »