Lyman, ME | (207) 499-2989
Still looking for Guardian home for Ted
Ozzy will be going to his forever home on MOnday. He went in to the vets yesterday and had a complete physical and got a clean bill of health. He got poked and proded and did not complain at all. Ozzy is going to make his new family so happy. He has so much love to give.
Teddy is 90 percent housetrained. He has only had one accident in the past 7 days. He is a sweet boy that loves to play and cuddles at your feet. Ted goes to bed at 10 pm and sleeps until 9 most mornings. He truely fits his name "Teddy"
I will be out of town from Thursday the 23rd thru Sunday the 26th. Please email me this weekend if you would like more information on the guardian program. You can call me Sunday evening or after if you would prefer to talk. (207)499-2989. You must be within an hour of the Kennebunk area.
Viewer Comments
Upcoming Litters
Litters planned for 2019 - 2020
Piper & Ted born October 8th
Moxie & ? Winter/Spring 2020
Abby & ? Winter/ Spring 2020
Luca & Gunner Spring 2020
Sami & Gunner Spring 2020
---
Check Back Again for More Labradoodle Puppy Announcements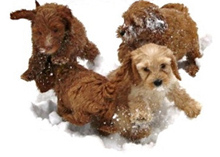 "There is no psychiatrist in the world like a puppy licking your face."
–Bern Williams
Read Testimonials »