Lyman, ME | (207) 499-2989
Busy November in Southern Maine
Tuesday I took Sophia in for all of her health testing. Everything looked good according to Dr L, now to just wait for the official paperwork that actually shows everything is good.
One of our guardian girls moved in this am for the next 96 days. Her family has decided to travel abroad for three months. What a lucky family... So Maggie will stay here and get to know us all better. In a perfect world she will come into season, be bred and have puppies while here. Is that to much to ask. LOL
Two more weeks and we will have two litters of puppies born.  It seems like forever sence we had pups born. I cannot wait for the presence of new life to be here again. Grace and Yazmen will give us beautiful babies for sure..
Viewer Comments
Upcoming Litters
Litters planned for 2019
Lucy and Gunner born 4/1/19
Abby and Raphael due 4/23/19
Luca and Gunner due June 3rd
Sammi and Gunner June 13th
Poppi Summer 2019
---
Check Back Again for More Labradoodle Puppy Announcements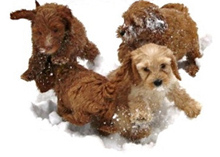 "There is no psychiatrist in the world like a puppy licking your face."
–Bern Williams
Read Testimonials »