Lyman, ME | (207) 499-2989
Blessed with babies this Sunday afternoon
Grace started panting and shaking about one this morning. Around 9 she started really trembleing and baring down. Sh was very uncomfortable and kept talking to Karina and I like "hello, do something" We took turns massaging her belly and talking to her. Finally she really pushed and 15 minutes later a baby was here.
12:25 Puppy one is here.  A beautiful fat legged apricot girl.  9.4oz
Mom is relaxing and baby has already found her way to a nipple. She is a smart one.
1:40  Sable girl is here. She is either black and apricot or brown and apricot. Hard to tell when they are still wet. Poor Grace really worked hard for this one too. She is a trooper. Ok after an hour she looks chocolate. 8.6 oz
2:35 cream girl.  if all keeps going this way the last one should be here in an hour. 9oz
2:45 dark chocolate boy.  If Dr H is right then she should be done. 11oz
What a great job Grace. Pictures will be posted tomorrow. That is if I am not delivering Yazmens pups.  Wait looks like Grace is pushing. hmmm is there another in there. I'll be back.
2:55 black boy with white markings.  What a suprise.
Perfect rainbow litter and all born during the afternoon on a clear and quiet day day. Thank you Grace for being so considerate. Happy happy happy....
Viewer Comments
Upcoming Litters
Litters planned for 2019
Lucy and Gunner born 4/1/19
Abby and Raphael due 4/23/19
Luca and Gunner due June 3rd
Sammi and Gunner June 13th
Poppi Summer 2019
---
Check Back Again for More Labradoodle Puppy Announcements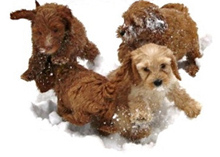 "There is no psychiatrist in the world like a puppy licking your face."
–Bern Williams
Read Testimonials »