Lyman, ME | (207) 499-2989
Sookie was bred today
We left the house at 715 am to head to CT. Sookie had a date with Cowboy a beautiful red Australian Labradoodle in CT. It was a 3 1/2 hour ride and her date was actually very short. Back in the car by 12:30 and headed back home.  So looks like we will have beautiful red minis in 9 weeks.
Due to three families waiting until SPring and another not responding to my emails, we now have 4 pups available.  These pups will be ready to go the last weekend in January to first weekend in February.  Graces pups will be Mini and Yaz's will be small mediums.
Also Harley is due in 7 weeks. She will have small mediums in blacks and creams.
Give me a call and I will tell you all about them. (207)499-2989
Viewer Comments
Upcoming Litters
Litters planned for 2019
Lucy and Gunner born 4/1/19
Abby and Raphael due 4/23/19
Luca and Gunner due June 3rd
Sammi and Gunner June 13th
Poppi Summer 2019
---
Check Back Again for More Labradoodle Puppy Announcements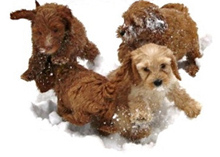 "There is no psychiatrist in the world like a puppy licking your face."
–Bern Williams
Read Testimonials »