Lyman, ME | (207) 499-2989
Happy Holidays
This is Grace's black boy singing Joy to the world to me.
Happy Holidays to all my Doodle families. I hope you all have an amazing time with your families and enjoy all this season has to offer.
PUppies are doing great and getting so big. All are getting playful and starting to really make us laugh. Once Christmas is over I will take new photos of them. I will see all of the families that have deposits in the next few weeks.
We still have 3-4 pups available for adoption. These pups are amazing already. Grace, Miles and Yaz, Stewart have given us some well rounded, sweet babies.
 There are a couple xmas pictures on the puppy page.
Viewer Comments
Upcoming Litters
Litters planned for 2019
---
Check Back Again for More Labradoodle Puppy Announcements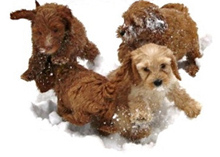 "There is no psychiatrist in the world like a puppy licking your face."
–Bern Williams
Read Testimonials »