Lyman, ME | (207) 499-2989
More families visit puppies
Two more families came to visit pups today. One family is getting one from Harley or Sookie due to trips in February. It was so nice talking with them. They are friends of a wonderful family who has two of my dogs. I love spending time with the families and getting to know a little about them.  The second family was looking at Yaz's pups. They loved blue and orange boys. Funny the darkest smalles pup and the lightest largest pup.  THey were a great family. They have a mini Goldendoodle and a Wheaton already and friends of theirs have one of Sookies past pups. This pup comes to their house and plays with there dogs Nelly and Logan.  They are so excited to get a new puppy. Both of these families will be great families for one of our pups.
I feel so blessed to be able to do what I do. It is such a heart warming business to be in.
Update on orange boy: he is doing get, you can not tell he was ever sick. Tomorrow he goes in at 8 am for a complete blood panel to make sure everything else is going good. He is such a cuddle bunny. I will update tomorrow.
We have two pups available from our current litters. I will post on Sunday which two they are, after I do assignments.  I do know for sure that black, graces dark apricot girl  and both browns are sold.
Viewer Comments
Upcoming Litters
Litters planned for 2019
Lucy and Gunner born 4/1/19
Abby and Raphael due 4/23/19
Luca and Gunner due June 3rd
Sammi and Gunner June 13th
Poppi Summer 2019
---
Check Back Again for More Labradoodle Puppy Announcements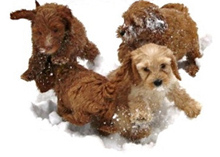 "There is no psychiatrist in the world like a puppy licking your face."
–Bern Williams
Read Testimonials »