Lyman, ME | (207) 499-2989
7 puppies go home
Yesterday 6 of the puppies went to their new homes. Every time it is puppy  pick up day my heart gets filled with joy and love. I have met some of the most amazing families over the years. Families that truely love thier dogs and consider them a new member of the family.
Raising these pups is a true passion for me. I make sure the breeders that I use are of the best temperment and health I can.  If a pup does not have the right gentle nature I will not include him or her in my program.  Next when the testing is done and they pass everything to my standards, they are bred.  Puppies are born, me and sometimes my daughter Karina love every moment of the birthing process. From taking care of the mom and making sure she has everthing to make the whelp as easy and comfortable as we can. The sound of the puppies in those firstdays , they sound like little birds.  The pampering of the moms to make sure they are ffed enough and are clean enough and that babies are thriving. We love the family visits at around 5 weeks.  It gives me a chance to watch the puppies interact with strangers and it teaches me so much about each puppy.  This time helps me decide who will fit best were.  Then we work on training them and helping to make them great family members.  All of this time and evergy leads us up to this day. The day they go home to bring laughter and love to a new family.
Today one of our pups Izzy went to a guardian home. Her new family came to get her, a wonderful man and woman and their beautiful son.  This little boy is 2 years old and has more manors then alot of adults you meet. He is a true reflection on the amazing parents he has. I am truely blessed that they have choosen to guardian and love our precious Izzy. Over the years I have had some of the best guardian families that I will always call part of my family.
This path I have choosen to raise these beautiful dogs was the the best decission I could have made. It fills my love with happiness, love and amazing people. Thank you to each and every one of you that chooses Southern Maine Labradoodles.
Viewer Comments
Upcoming Litters
Litters planned for 2019
---
Check Back Again for More Labradoodle Puppy Announcements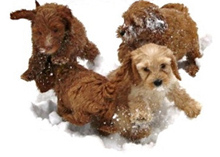 "There is no psychiatrist in the world like a puppy licking your face."
–Bern Williams
Read Testimonials »