Lyman, ME | (207) 499-2989
I love what I do
After working a long day at my accounting job, I came home to a home cooked meal made by my son and his girlfriend.  While I ate I had 5 dogs sitting at my feet and got entertained by my son and his girlfriend competing on Just Dance. I got up from the table walked in to Nursery two down the hall and smiled at Shirleys 8 sleeping angels. I passed thru the door to Nursey One and lied in the middle of the floor and was mauled by all 7 of Cali lilys babies. They licked and nibbled and moaned, while I loved up on them. It was pure unimaginable bliss.
I then got a phone call from a new client that was refereed from a past client. She had nothing but wonderful things to say about our puppy Jake that her friend has.  I had another client drop off her two Labradoodles (4 year old Moxie and 3 year old Grace), so we can watch them for the month of March while they are away.  This past week we took care of Jett (one of our 4 month old pups) while his wonderful family went on a skiing trip.  I love spending time with our puppies even after they have gone to their forever homes.
My heart is so full of love right now for all of our extended puppy families and all of the puppies we have had and have now. 
Viewer Comments
Upcoming Litters
Litters planned for 2019
Lucy and Gunner born 4/1/19
Abby and Raphael due 4/23/19
Luca and Gunner due June 3rd
Sammi and Gunner June 13th
Poppi Summer 2019
---
Check Back Again for More Labradoodle Puppy Announcements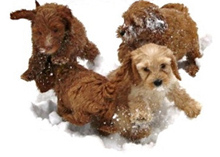 "There is no psychiatrist in the world like a puppy licking your face."
–Bern Williams
Read Testimonials »