Lyman, ME | (207) 499-2989
Could it be time for Puppies?
 .
Ok so Misty's temp finally dropped this morning. 98.4 degrees. SO that means we should have pups by Sunday morning. She is still eating, but is doing nothing else besides sleeping. Everywhere Karina and I go, Misty is right there with us. Her pups have moved from under her ribs to her lower belly area. She finally looks pregnant.  Lets hope puppies start arriving soon.  Stay tuned.
Viewer Comments
Upcoming Litters
Litters planned for 2019
---
Check Back Again for More Labradoodle Puppy Announcements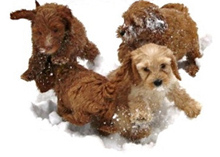 "There is no psychiatrist in the world like a puppy licking your face."
–Bern Williams
Read Testimonials »