Lyman, ME | (207) 499-2989
Labradoodles everywhere
What a crazy busy weekend we had here. A new stud hopefull arrived on Thursday evening.  Friday we started working with Miles (new pup) to get him usto the house and dogs.
Grace is starting to feel her pregnancy hormones and is tired and slightly cranky.
Shileys 8 pups had their first baths, first shots and posed for photos. Check them out on the puppy page.
We have 7 adult dogs and Miles living in the house with us (family of 6). 15 puppies in the two puppy nurseries right by my office. (and one hamster) So how many legs is that in my house? LOL
We had three families visit on Saturday. Everyone loved the pups and can't wait to bring home their new family member in a couple weeks. I am pretty sure I know who is going home with whom.  I will let you know soon.
WE HAVE PUPPIES AVAILABLE FROM BOTH LITTERS.
Viewer Comments
Upcoming Litters
Litters planned for 2019
Lucy and Gunner born 4/1/19
Abby and Raphael due 4/23/19
Luca and Gunner due June 3rd
Sammi and Gunner June 13th
Poppi Summer 2019
---
Check Back Again for More Labradoodle Puppy Announcements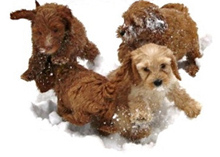 "There is no psychiatrist in the world like a puppy licking your face."
–Bern Williams
Read Testimonials »