Lyman, ME | (207) 499-2989
Big Day
Last night Lily's litter all got baths and trims. Today they go in for full exams, microchips and their spays and neuters. It will be a long morning without them here. Can't wait to pick them up and have some cuddle time.  It will be interesting to see how big they have all gotten. I am guessing some are over 10lbs. 
Shirley's litter is on dry food and spring water now. Mom is nursing twice a day, only because she really wants to. SHirley loves being a mom and being with her babies. This litter on the other hand I bet all are under 4 lbs. 
Well off to get the carriages ready and get the pups to the vets. 
Brace yourselves New England it looks like we are in for another winter storm. Didn't mother nature get the memo that it is Spring?
Viewer Comments
Upcoming Litters
Litters planned for 2019
Lucy and Gunner born 4/1/19
Abby and Raphael due 4/23/19
Luca and Gunner due June 3rd
Sammi and Gunner June 13th
Poppi Summer 2019
---
Check Back Again for More Labradoodle Puppy Announcements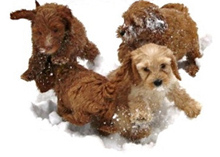 "There is no psychiatrist in the world like a puppy licking your face."
–Bern Williams
Read Testimonials »