Lyman, ME | (207) 499-2989
Ok back to 4 puppies available
We were down to three, now back up to 4.  Two girl and two boys available to go home this weekend.  Blue boy went home, but looks like it may not be working out.  I will post pictures of the two boys and two girls that are available. The boys are blue and black and the girls are pink and red.  THese pups will be about 20 lbs when full grown. The two boys should be about 20 -25 lbs when full grown.
I am available to schedule visits this week and weekend. Give me a call and we can work out a good time to visit. (207)499-2989.   Leave a message if I don't answer and I will call you back.
Also have a wonderful 11 week old girl that I am looking for a guardian home for. She is the sweetest girl you could ask for. She will mature to about 35 lbs and will melt your heart.
Viewer Comments
Upcoming Litters
Litters planned for 2019
Lucy and Gunner born 4/1/19
Abby and Raphael due 4/23/19
Luca and Gunner due June 3rd
Sammi and Gunner June 13th
Poppi Summer 2019
---
Check Back Again for More Labradoodle Puppy Announcements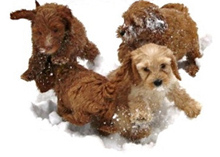 "There is no psychiatrist in the world like a puppy licking your face."
–Bern Williams
Read Testimonials »