Lyman, ME | (207) 499-2989
May 31st pups arrive
It is 1:15 in the morning and Misty has had three pups. A black girl with white markings and two cream boys. Barry I am still hoping for a black boy for you. 
by 2:10 Misty had 5 pups. Yes all five in an hour. She then suprised us with a 6th pup 20 min later.  We cleaned up everyone, changed the bedding and I went to heat the heating pad for the pups. (oh as a side note. it is 2 in the morning and my daughters two mini hamsters decided to escape. So here we are sleep deprived trying to catch these mouse sized creatures. Karina caught one I the other.  ewe what a feeling. Way to funny)   When I got back to Misty's room one of the pups collars was missing.  So I checked to see what color was no longer there and discovered it was actually a new pup. Misty had 7 pups..  This from a dog who had barley no tummy at all and who's xray showed 4 maybe 5.
She had three black girls, one with white markings.  One cream girl and three cream boys.  Barry sorry there was not a black boy. How about a black girl or a cream boy. Lynn looks like you can have a cream boy is one fits.  After three sleepless nights waiting it is time to get a little sleep.
 Looks like we have three pups available for adoption now.   Call if you are interested. (207)499-2989
Viewer Comments
Puppy arrival
Wonderful news! Who could ask for anything more! Now I can get some sleep too. Can't wait to see their pictures.
Upcoming Litters
Litters planned for 2019
Lucy and Gunner born 4/1/19
Abby and Raphael due 4/23/19
Luca and Gunner due June 3rd
Sammi and Gunner June 13th
Poppi Summer 2019
---
Check Back Again for More Labradoodle Puppy Announcements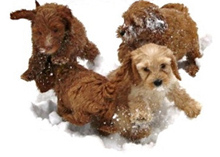 "There is no psychiatrist in the world like a puppy licking your face."
–Bern Williams
Read Testimonials »