Lyman, ME | (207) 499-2989
Brady leaving me tomorrow
Brady the last of Grace's pups, has been with us by himself since Saturday.  He has been sleeping in a crate in my room and playing great with our older puppies and dogs. The first night in his crate he was not sure he was happy, so the crate went into my kingsize bed so he would feel safe. Last night his crate was on the floor at the foot of my bed and he went in at 10 ish with no complaints at all.  We got up at 6 went out to pee and then back in until 8.  He has been running around the house with the other dogs and my daughter all day and we have caught him everytime before or just as he is about to pee. So far he is doing great. My sons girlfriend Katrina gave him a bath last night in the big tub and he did good with that also. He cuddled in her arms with his chin in the crease of her neck and shoulder, so darn cute.  Katrina is in love.
Coco is meeting her new family on Sunday and will go home a week after that. She is such a good dog. It will be very hard for the family to say goodbye to her. She has been with us for a few months and we are all completely taken with her.
Misty is in heat and will be bred on Sunday or Monday to Ari.
Viewer Comments
Upcoming Litters
Litters planned for 2019
Lucy and Gunner born 4/1/19
Abby and Raphael due 4/23/19
Luca and Gunner due June 3rd
Sammi and Gunner June 13th
Poppi Summer 2019
---
Check Back Again for More Labradoodle Puppy Announcements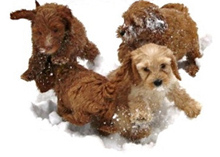 "There is no psychiatrist in the world like a puppy licking your face."
–Bern Williams
Read Testimonials »