Lyman, ME | (207) 499-2989
Great week at Southern Maine Labradoodles
Early this week we had a successful honeymoon at the lake with Misty and Ari. Looks like another batch of beautiful pups from this sweet couple will arrive about August 30th. (give or take a couple days)
Sookie is showing signs of coming into season, but I don't have a mini boy ready for her yet. Miles thinks he is, but at 6 months, I don't think that will happen. LOL  So either I find an outside man or she waits 6 months and has pups in 2012.
Tonight my husband Bob, Justin, Jake and I are heading to Boston to a Red Sox game.  These tickets were a gift from one of my amazing new families. Chippy's owners were so thrilled with Chippy that they gave us Box seat tickets to tonights game.  This will be only the second game for Justin and I (last game we went to was also a wonderful gift from a client, Vinnies parents) and a first for Jake. We are so thankful for this wonderful gift. Now lets hope the rain holds off until after midnight. PLEASE!
What a wonderful night we will have.
Viewer Comments
Upcoming Litters
Litters planned for 2019
Lucy and Gunner born 4/1/19
Abby and Raphael due 4/23/19
Luca and Gunner due June 3rd
Sammi and Gunner June 13th
Poppi Summer 2019
---
Check Back Again for More Labradoodle Puppy Announcements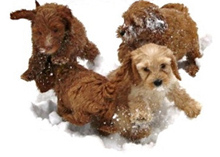 "There is no psychiatrist in the world like a puppy licking your face."
–Bern Williams
Read Testimonials »