Lyman, ME | (207) 499-2989
Baby its hot outside
Today the temp hit 104 at my house. It is hot and not comfortable at all outside. Inside the dogs and I are chillin in the airconditioning. 
Wendsday I drove Coco/Lulu to her new home.  We miss her so much. Lulu was my little baby. She would lie  in my arms like a baby and sleep and rock in the rocking chair every night. She never barked, never got over stimulated and she just loved everyone. She greated me every morning with cuddles and kisses. THere was nothing about that girl that I didn't love.  If I could scan and copy her, what a wonderful world this would be.
I hope her new family is as in love with her as I was and showers her with all the love I know she will shower them with.  I know the Gerber family is a wonderful family that will love her unconditionaly.
My goal here at SML is to provide healthy, happy, well adjusted puppies that will love you and be a part of your family for the rest of their lives. We spend hours with the pups getting to know pups and training them, so we can provide families with as much information as we can. Most of the time I get it right. But once in a while there is a blip and it is those times that I get very sad. Sad for the dog,  sad for the family and sad for me.   When this happens I will do everything I can to make things better if I can. The dogs safety, health and comfort are my main priority. My mom said to me recently "Kelly sometimes you have too big a heart, you can't fix everything." I know that, but I will always try if I can.  Breeding is a passion and something I take great pride in. THese dogs are all my family from the moment they are born. 
Viewer Comments
Upcoming Litters
Litters planned for 2019
---
Check Back Again for More Labradoodle Puppy Announcements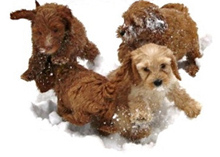 "There is no psychiatrist in the world like a puppy licking your face."
–Bern Williams
Read Testimonials »