Lyman, ME | (207) 499-2989
9 dog and counting
For the past week we have had our 5 dogs, Moxie and Grace for 2 days and Maggie and Shopie are here for 10 days.  Moxie and Grace are frequent fliers and visit with us often, so are part of the family. Sophie and Maggie are from Ari and Cali's litter in February. THey look like twins but their personalities are polar opposites. One is quiet, reserved and very obedient. THe other is playful, loud and having too much fun to care that I want her attention. She is just so thrilled to have Miles here to bounce around with and Sookie to wrestle with. She is going to sleep for a week when she gets home.
I love seeing my pups when they are a little older. It really lets me get to know the puppies we produce here and it feels good to see how gentle and tolerent they are. Both Sophie and Maggie are really good girls that are just having a ball being here.
Life is good her at SML.
Viewer Comments
Upcoming Litters
Litters planned for 2019
Lucy and Gunner born 4/1/19
Abby and Raphael due 4/23/19
Luca and Gunner due June 3rd
Sammi and Gunner June 13th
Poppi Summer 2019
---
Check Back Again for More Labradoodle Puppy Announcements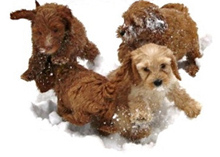 "There is no psychiatrist in the world like a puppy licking your face."
–Bern Williams
Read Testimonials »