Lyman, ME | (207) 499-2989
Busy busy day
Took Misty in this AM for her xray. She is having 6 pups any day now. She is day 59 and usually delivers on day 63.  So we should have pups by Friday, Saturday at the latest.
Drove Sookie to RI for a honeymoon with Chico.  My little girl is all grown up.  
I will post a picture of the xray and a picture of Chico on Wendsday.  Looks like we will be having little reds in 9 weeks as we hoped.
Viewer Comments
Upcoming Litters
Litters planned for 2019
---
Check Back Again for More Labradoodle Puppy Announcements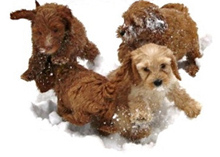 "There is no psychiatrist in the world like a puppy licking your face."
–Bern Williams
Read Testimonials »