Lyman, ME | (207) 499-2989
Tecno issues
Ok went to download the pictures onto my website, pushed the power button on the desk top and nothing. My computer won't even turn on. So dropping it off at the miracle workers house tonight and hope he can fix it and if not, at least retrieve all of my business stuff.  So this means no pictures for at least a couple days. So sorry... Unfortunately my laptop is not equipted to download pictures or do any of my business stuff. 
Please say a prayer that my computer will survive or Al at least is able to save my work.
Thanks for your patience.
Viewer Comments
Upcoming Litters
Litters planned for 2019
Piper and Ted born 2/9/19  sold
Lucy and Gunner due 4/5/19
Abby and Raphael due 5/1/19
Sammi and Gunner Summer 2019
Poppi Summer 2019
Luca and Raphael Summer 2019
---
Check Back Again for More Labradoodle Puppy Announcements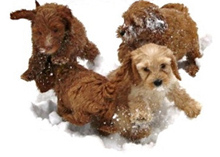 "There is no psychiatrist in the world like a puppy licking your face."
–Bern Williams
Read Testimonials »