Lyman, ME | (207) 499-2989
Fist Misty pup went home today
Today Cali went home with ther family to Mass.  Lynne and the three girls came to pick her up. These three little girls are so beautiful and were so happy to be taking home their new puppy sister. Little black boys family (or a part of his family) came to visit for a little while so they could meet their new family member. It was a pleasure getting to know Sue and her son Danny.  Tomorrow they will come back in the AM and head back home to NJ. THis is the first dog for this family  due to allergies and they are so very excited to finally be able to have a dog.
I love pick up days. It is such a pleasure to spend time with the famlies and see the joy on their faces.  
Right now Dunkin is lying at my feet sound asleep. Were ever I sit he is right there. He is going to be such an amazing addition to the O'Connor family. Yeah!
Viewer Comments
Upcoming Litters
Litters planned for 2019
---
Check Back Again for More Labradoodle Puppy Announcements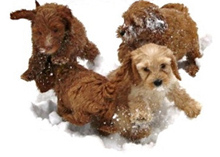 "There is no psychiatrist in the world like a puppy licking your face."
–Bern Williams
Read Testimonials »