Lyman, ME | (207) 499-2989
Harleys babies are here
Harley had her pups this am. Her xray was yesterday which was day 58.  She started labor around 3 yesterday afternoon. Her guardian mom called me in a panic, because Harley was acting funny. So off we went to get her and move her into the birthing house. My daughter and I moved into the whelping room. Karina on a cot and I on an air mattress. Harley choose the rocking chair instead of the whelping box. We spent the wee hours of the morning going out and back in, whinning and pacing. She wanted to be touched the whole labor. Everytime I would start to fall asleep she would cry really loud so I would continue to rub her belly.  Very cute...
At 5 am the first girl was born. Then she waited and hour and then had the remaining 5 very quickly. Her guardian mom was here to assist in 4 of the deliveries. Thankfully she only lives 2 min down the road or she wouldn't have made it. Harley had 3 girls and 3 boys. If you look at the picture you will see there are two creams, two apricot (hiding under moms legs)and two chocolate. She gave us a girl and a boy of each color. What a good girl. Harley was a champ and honestly amazed me. I groomed her while she was in labor and she didn't care. She had her head in my lap until momma Michelle got here and then it was in Momma's lap. She was the perfect first time mom. Wish they were all this easy.
Here are the babies....
Viewer Comments
Upcoming Litters
Litters planned for 2019
Piper and Ted born 2/9/19  sold
Lucy and Gunner due 4/5/19
Abby and Raphael due 5/1/19
Sammi and Gunner Summer 2019
Poppi Summer 2019
Luca and Raphael Summer 2019
---
Check Back Again for More Labradoodle Puppy Announcements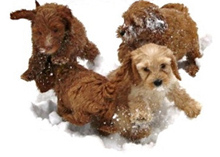 "There is no psychiatrist in the world like a puppy licking your face."
–Bern Williams
Read Testimonials »