Lyman, ME | (207) 499-2989
New puppy pictues
I posted pictures of Harleys puppies today so check them out. They are getting so big and so round. I love how many markings there are on so many of them.
I work outside the home part time at an accounting firm. As you can imagine this time of year is crazy busy. Well after a day at the office I love to come home and just snuggle up to Harley and marvel at her beautiful babies. New life always makes life so much sweeter.
Two weeks and we should have a new litter in the house. Yeah. I am loving this.
Viewer Comments
Upcoming Litters
Litters planned for 2019
Piper and Ted born 2/9/19  sold
Lucy and Gunner due 4/5/19
Abby and Raphael due 5/1/19
Sammi and Gunner Summer 2019
Poppi Summer 2019
Luca and Raphael Summer 2019
---
Check Back Again for More Labradoodle Puppy Announcements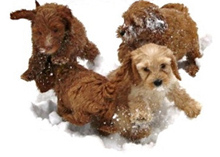 "There is no psychiatrist in the world like a puppy licking your face."
–Bern Williams
Read Testimonials »