Lyman, ME | (207) 499-2989
It is our Anniversary
Today is our 8 year anniversary.  8 years ago Sierra gave birth to 8 beautiful girls and started us on this amazing journey we have been on. It was the day that I realized, this is what I wanted to do for as long as I am able to.  I realized that bringing life into the world and helping to nurture it is an amazing job. There is heartache for sure. There are days I wonder what I am doing this for. But then a miracle happens, or a client calls and makes you smile and reminds you "yes this is why I do this."  All the dreams I help make come true, all the love I am able to provide.  The joy I know I am bringing into families lives is why I do this. Not to mention the joy these pups and dogs and families bring to me. When life is overwhelming and I feel deflated all I have to do is sit on the floor with a my dogs or one of my pups and take a deep breath and everything is right again.
As with any business there are challanges and unforseen issues. Dealing with living beings makes the unforseen even more complicated. But we do everything we can to make sure they are as healthy and well adjusted as they can be. We guide our clients and are here for support whenever they need us. Am I perfect, of course not. But I do the very best I can. I love what I do and it is a true passion for me.   I cannot imagine doing anything other then this.
So I want to thank my dogs everyone of them. My amazing guardian families, for without them this would not be possible. I am truely blessed to have some of the best guardian homes, they are all family now. I want to thank my clients each and every one. You have each touched me in amazing ways. The stories we share and the tears I have shed for some of you have left lasting impressions. You have each left a mark on my heart. I am here for everyone of you anytime. Many of you are like family and I look forward to your calls.  Lastly I want to thank my daughter Karina. She is my little mini business partner. She is there beside me delivering pups and during every aspect of raising, training and preparing puppies to go home. She is my heart and soul.
I look forward to many more years of providing top quality dogs to amazing families.  Someone once said "you will know when you find what you should do with your life." I have found that for sure. I am a lucky girl.  
Viewer Comments
You are wonderful.
Just read your beautiful mmessage. We check out your web page a couple times a day so we are sure to get all the news of new puppies and see their pictures. We are so in love with our Becky. She has settled sown so nicely and is such a joy to us. She is really smart and we were so excited to see her sister, Sookie's puppies. We had such a great experience with you and your family when we got Becky. You were so patient with us when we were trying to pick her out. Keep up your wonderful work and keep on keeping us posted on what new puppies are on the way. Becky is a LOVE Thank you so much...Carol and Larry
Upcoming Litters
Litters planned for 2019
---
Check Back Again for More Labradoodle Puppy Announcements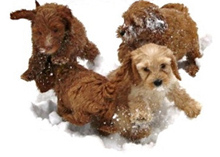 "There is no psychiatrist in the world like a puppy licking your face."
–Bern Williams
Read Testimonials »