Lyman, ME | (207) 499-2989
Puppy Available
As of today Green boy from Harleys litter is available. Things didn't work out so he became available today. He will be ready to go home as early as next Friday. He is playful yet loves to cuddle.  He is an all around good boy with a great personality. Drop me and email or give me a call. (207)499-2989  You can see him on the puppy page, current litter.
Yazmens babies are getting rolly. They have doubled in size in a week.
Sookies belly is really growing. I can't wait to get a puppy count in about 10 days.
Shirley goes in on Friday to confirm pregnancy. Fingers crossed.
Viewer Comments
Upcoming Litters
Litters planned for 2019
---
Check Back Again for More Labradoodle Puppy Announcements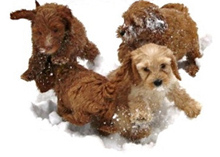 "There is no psychiatrist in the world like a puppy licking your face."
–Bern Williams
Read Testimonials »