Lyman, ME | (207) 499-2989
Puppies big day
Harley's babies were dropped off at the vets this am for their full vet check, microchipping and spay/neuters. They were all so good. I loaded them into their carriages, loaded them in the car, drove to the vets and then they got their exams. Not one of them complained. They all sat there quietly and waited their turn. Everyone checked out healthy and Doug and Jodi loved them all. I left them at the vets for surgery and will pick them up at 3:30. I will post later on today their weights and how they are doing.
Shirley is pregnant and we are so excited to see what she and Stewart give us. Yeah!
Yesterday I got home at 2pm from my weekend away with my little dancer. Within an hour 4 families called and scheduled visits for 3, 3:30, 4 and 4:30. Thankfully the last two families both ran late and it worked out beautifully. I loved meeting the two new families and spending time with the two that are each getting one of Harley's babies. Family visits make me feel so warm inside. I love introducing people to what I do and why I do it. It is pure love and devotion for sure. After the last family left at 6:30 it was 6 puppy baths and paperwork in preperation of todays vet visit.
If my life wasn't crazy busy I don't know what I would do. LML (Loving my life)
Viewer Comments
Upcoming Litters
Litters planned for 2019
Piper and Ted born 2/9/19  sold
Lucy and Gunner due 4/5/19
Abby and Raphael due 5/1/19
Sammi and Gunner Summer 2019
Poppi Summer 2019
Luca and Raphael Summer 2019
---
Check Back Again for More Labradoodle Puppy Announcements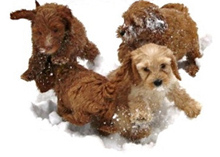 "There is no psychiatrist in the world like a puppy licking your face."
–Bern Williams
Read Testimonials »