Lyman, ME | (207) 499-2989
Adoption Information
Once we have your application we will notify you when pregnancy is confirmed and again when puppies arrive.  Click here to download our Adoption Application
Pricing: all pups are $2,700.   + 5.5% Maine sales tax.
We welcome families that have applications on the litter to come and visit the pups after about 5 weeks of age. We will listen to what your family has to say about the puppies and which pups you are most drawn to. At about 5 weeks we start watching and taking notes on puppies personalities and behaviors. At 6-7 weeks we do puppy assignments. Understand that a family with just a mom and dad or an older child or two needs a different dog then a family with younger children. I will work closely with you to make sure you get the best possible pup for your family. I have successfully placed pups with families of all shapes sizes and many different needs.
See our SML feedback and testimonials page.
---
Planned Litters
Litters planned for   Winter 2017
Ruby and Raphael  born 1/20/17    Sold

Ella and Ted  born 2/6/17    Sold

Lucy and Blake born 3/28/17 sold

Pinto and Blake ?
Luca and Raphael Oct 2017
Ella and Ted  Early 2018
Abby and Ted early 2018
---
Check Back Again for More Labradoodle Puppy Announcements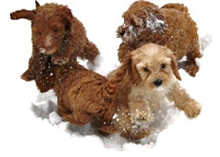 "There is no psychiatrist in the world like a puppy licking your face."
–Bern Williams
Read Testimonials »