Lyman, ME | (207) 499-2989
Adoption Information
Once we have your application we will notify you when pregnancy is confirmed and again when puppies arrive. Click here to download our Adoption Application
As of January 1, 2021 due to increased cost of business our prices have gone up slightly.
Pricing: all pups are $3,000. + 5.5% Maine sales tax.
Processing fee of $300 to hold your spot on a litter. Half of balance will be due by 4 weeks of age. Remaining balance due by 8 weeks.
We welcome families that have applications on the litter to come and visit the pups after about 5 weeks of age. We will listen to what your family has to say about the puppies and which pups you are most drawn to. At about 5 weeks we start watching and taking notes on puppies personalities and behaviors. At 6-7 weeks we do puppy assignments. Understand that a family with just a mom and dad or an older child or two needs a different dog then a family with younger children. I will work closely with you to make sure you get the best possible pup for your family. I have successfully placed pups with families of all shapes sizes and many different needs.
Pups are to be picked up by date I assign. If pup is here longer there is a $25. Per night fee. This is done only when we have discussed it and I approve it.
I sometimes will offer to meet a family In NH for pickup or further (we have gone as far as CT to meet a family) if needed. There is a delivery charge for that. Ranges from $25 to $200.
See our SML feedback and testimonials page.
Upcoming Litters
Litters planned for 2022
Winnie and Finn born 5/5/22

Maggie and Ari due June 13th
Nala /Groot for early Fall
Dalilah /Archie Fall
Maple /Archie Fall
---
Check Back Again for More Labradoodle Puppy Announcements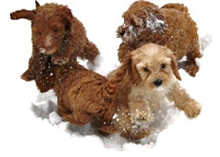 "There is no psychiatrist in the world like a puppy licking your face."
–Bern Williams
Read Testimonials »