Lyman, ME | (207) 499-2989
Labradoodle Puppies
View puppy announcements, pictures, and updates.
Ruby's Babies
posted: Jan 25, 2017
Ruby had her pups on Friday the 20th.  Here are some photos I took today of the babies. They are all pretty dark red. Can't wait to watch them grow and see if they stay dark like her last two litters did. She and Raphael have produced some of the prettiest dark red pups I have ever seen.
Ruby3
Click on an image to zoom in
Luca's pups 4 1/2 weeks
posted: Jan 19, 2017
Luca's pups are so much fun now. We spend alot of time holding them and watching them play. At this age they are still really clumsy and it is so funny to watch them try to play with eachother. They are just starting to get personalities and some of them really love to cuddle already.  I love this age. (ok I love every age)
luca4weeks
Click on an image to zoom in
LUca pups 2 weeks
posted: Jan 2, 2017
Luca's babies are getting so big. My daughter and I took new photos today and it was so much fun. They were squirmy and then sleepy. So cute. We started out taking photos on a bed and that just made them walk everywhere so we switched to my daughter holding them.  love this litter. Karina already has her favorite pup in the litter. I haven't picked mine yet. They are a to young yet. BUt be can already tell a couple are cuddle bugs.
luca2weeks
Click on an image to zoom in
Lucas babies
posted: Dec 18, 2016
Luca had her babies on Friday evening. Below is a picture taken Friday evening and one this evening SUnday the 18th. She had three boys and two girls. All pups are doing great and LUca is just as happy as can be.  She really has settled in nicely to being a mom.
The directory 'Gallery/Lucababies' does not exist. Check your parameters.
luca2weeks
Click on an image to zoom in
Pups are 3 weeks old
posted: Jul 1, 2016
Sophia's pups are getting so big.   I snapped these pictures quickly while transferring them from the delivery room to the nursery. They are much more content in the nursery.  I look forward to all of the pups future parents coming to visit in a couple weeks.  See you then.  Enjoy the pictures.
ALL PUPS HAVE FAMILIES.
Sophia3weeks
Click on an image to zoom in
---
Planned Litters
Litters planned for   Winter 2017
Luca and  Raphael born 12/16/16  Sold

Ruby and Raphael  born 1/20/17    Sold

Ella and Ted  due February 8th
Lucy and Blake due March 28th
Pinto and Blake ?
---
Check Back Again for More Labradoodle Puppy Announcements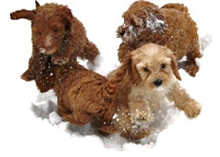 "There is no psychiatrist in the world like a puppy licking your face."
–Bern Williams
Read Testimonials »