Lyman, ME | (207) 499-2989
Labradoodle Puppies
View puppy announcements, pictures, and updates.
Kia's minis at 5 weeks
posted: Feb 28, 2014
Kia's pups are getting so big. OK really they are tiny, but big for them. Black girl is the biggest in the litter. She is a doll and lets me hold her all the time. Apricot white girl is the most curious. She is the one that escapes all the time and isn't affraid of anything. Therefor she is held the most. Apricot boy is more quiet and reserved. Just more chill. Apricot girl is more of an observer but loves to cuddle.
kiamiles5weeks
Click on an image to zoom in
Lola
posted: Feb 14, 2014
Lola had her sonogram today at 5pm. The vet she is having at least 6 or 7 puppies. So looks like about March 12th there will be more puppies coming to Southern Maine. I am so excited to see Lola and Raphaels beautiful apricot and red babies.
Harleys pups started going home today. Three of them left and one of Sophias. MondayI take three of Sophias babies to the airport in Boston.    One more of Harleys will leave one Wednesday.   We still have two beautiful black boys from Harleys litter available. They have beautiful fleece coats and are bothe cuddley. If you would like more information give me a call. (207) 499-2989
Kia's pups at 2 weeks
posted: Feb 6, 2014
Kia and Miles pups are two weeks old. They still do nothing but nurse and sleep. So really not alot to say about them. They appear happy and healthy so far and continue to grow and a good pace.
There is one pup from this litter available. Call for more information (207)499-2989
kiamiles2wks
Click on an image to zoom in
Harley and Raphaels pups 7 weeks
posted: Feb 6, 2014
Harely and Raphaels pups are 7 weeks and we still have one available. The family in ME that was adopting him decided their daughter is still to young. I agree the time is not right for them and in the near future a Southern Maine Labradoodle will join their family.
One of the black boys is still available. Call if you are interested.
These pups are so fun and so entertaining. I love letting them run around the house two at a time and watching them play. Brown boy and blue boy do most to the wrestling. They are definatley the two brothers that pick on eachother. But in a good way.
Harley /Raphael pups 7 weeks
Click on an image to zoom in
Sophia's pups 8 weeks
posted: Feb 6, 2014
Sophia's pups are ready to go home. Sookie left on Tuesday and black girl leaves next Friday. The other three leave on the 17th when I drive them to Logan airport for their daddies to pick them all up. All three of them will be going to live in NC with family. So excited for the Stevens and the Masons and for their three pups.
sophiated8wks
Click on an image to zoom in
---
Planned Litters
Litters planned Fall Winter 2013/2014
Harley and Raphael Puppies born 12/16/13  1 left

Kia and Miles puppies born January 2014
Lola and Raphael  puppies due March 12th, going home mid May (large Minis)
Yazmen and Ted Due April 3rd  - Mid June  (mediums25-30 lbs)
Maggie and Ted due end of March  -(Mediums 30-40 lbs)
---
Check Back Again for More Labradoodle Puppy Announcements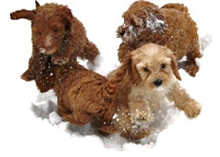 "There is no psychiatrist in the world like a puppy licking your face."
–Bern Williams
Read Testimonials »