Lyman, ME | (207) 499-2989
Labradoodle Puppies
View puppy announcements, pictures, and updates.
Harley's pups 2 weeks
posted: Apr 17, 2015
Harleys pups will be 2 weeks on Sunday. They are getting round already. She is a momma that loves to take care of her babies. I couldn't ask to have three better moms then the three I have now. Luck lucky lucky for sure.
Can't wait to hear what everyone has to say.
harleyapril17
Click on an image to zoom in
Lola's pups 2 weeks old
posted: Apr 17, 2015
Well they will be 2 weeks on Sunday. Her pups were so easy to take pictures of. Honestly I could have spent the whole day in there just looking at them. They are so darn cute.   Boy is my house going to be busy in a few weeks when all of these babies are up and playing.
Lolaapril15
Click on an image to zoom in
Hopes babies almost 3 weeks
posted: Apr 17, 2015
Here are hopes 4 babies. I am most likely keeping the black and white parti girl. Hopes black boy would not stay awake for the pictures. I think his tongue is sticking out because I touched his nose to try and make him turn his head. LOL that was his answer.  No matter what I did he just kept going back to sleep. Too funny.
hopeapril17
Click on an image to zoom in
Our 3 current litters
posted: Apr 9, 2015
Here are group shots of our litters. I will do individual puppy shots on Monday when I get home from my weekend away. Don't worry the mommas and pups will be in my husbands loving hands.
Here are Hopes pups   (3boys, 1 girl)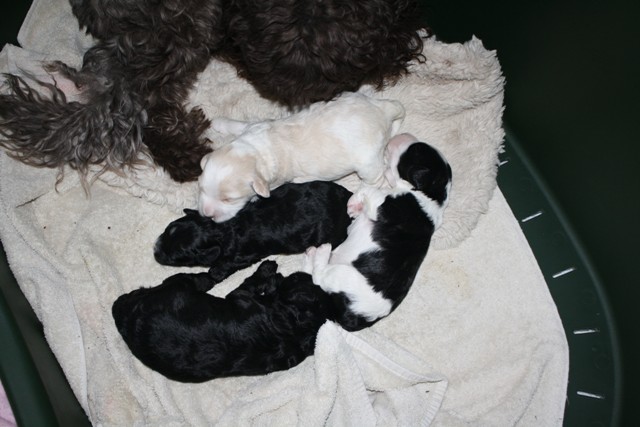 Lolas pups  (5 boys, 3 girls)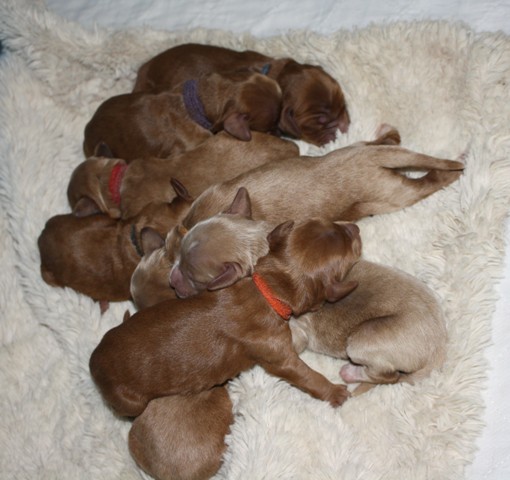 Harleys pups  (1 boy, 3 girls)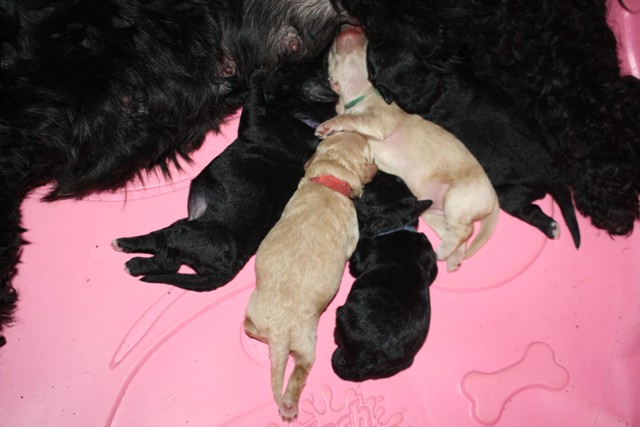 One puppy available
posted: Feb 12, 2015
Here are Sookies three pups that are still here. Shaka leaves tomorrow and Brady leaves on the 21st. Blue boy does not have a home yet. He is doing great in  the house and loves to play and be petted. He will make a great family pet.  My hope is that he finds a home before his brother Brady leaves so he can be the center of a families attention and get all the love.
 Blue collar boy went home today 2/16/15  so happy for him.
---
Planned Litters
Litters planned for 2015
Hope and Miles  SOLD
Harley and Stewart  SOLD
Lola and Raphael    SOLD
Ruby and Raphael /She is pregnant and due mid May
---
Check Back Again for More Labradoodle Puppy Announcements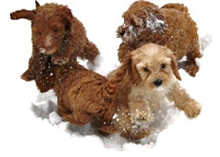 "There is no psychiatrist in the world like a puppy licking your face."
–Bern Williams
Read Testimonials »