Lyman, ME | (207) 499-2989
Labradoodle Puppy Gallery
This will give you an idea what your Labradoodle puppy may look like when he/she grows up. They change so much in the first year, it always amazes me when I get pictures of them, how much they have grown. A big thanks to my families for sharing. We love all of our babies and love to get updates.
Our Extended Family of Labradoodles
Click on an image to zoom in
---
Planned Litters
Litters planned for   Winter 2017
Ruby and Raphael  born 1/20/17    Sold

Ella and Ted  born 2/6/17    Sold

Lucy and Blake born 3/28/17 sold

Pinto and Blake ?
Luca and Raphael Oct 2017
Ella and Ted  Early 2018
Abby and Ted early 2018
---
Check Back Again for More Labradoodle Puppy Announcements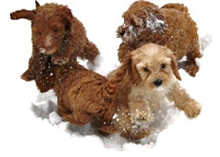 "There is no psychiatrist in the world like a puppy licking your face."
–Bern Williams
Read Testimonials »