Lyman, ME | (207) 499-2989
Upcoming Litters
View announcements and updates of upcoming puppy littters.
No litters in the works
posted: May 28, 2012
We currently don't have any girls pregnant.  Hoping to breed Grace to Ari sometime this Summer.
Get an adoption application here
Misty due
posted: Jul 22, 2011
Misty due to have puppies at the end of August
Get an adoption application here
Upcoming Labradoodle pups planned for Spring 2011
posted: Apr 23, 2010
Grace and Ari:  planned for February- small mediums   black and cream    There last litter was amazing. Everyone that meets them fall in love. They are now over a year and I can't wait for the next litter to arrive.
Shirley and Elmo: Planned for February-mini's  apricot and reds    Shirley's last litter is also a year old now and they are wonderful. I have one that lives with me and she is so sweet and funny.
Get an adoption application here
---
Planned Litters
Litters planned for  2019
Moxie and Raphael born 12/12/18 SOLD
Piper and Ted due 2/13/19
Lucy and Gunner 4/9/19
Abby and Teddy Spring 2019
Sammi and ? Spring 2019
Poppi  Summer 2019
Luca and Raphael Summer 2019
---
Check Back Again for More Labradoodle Puppy Announcements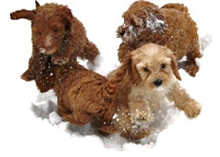 "There is no psychiatrist in the world like a puppy licking your face."
–Bern Williams
Read Testimonials »