Lyman, ME | (207) 499-2989
Feedback and Testimonials
---
Dear Kelly,
Today we took Jordie to a "bark park" in a neighboring town and met a woman with a full size labradoodle. She loved her pup, but hadn't loved her breeder. We were so happy to tell her about the wonderful experience we had with you at SML. You've always been so responsive, warm, and knowledgeable, and your dogs are all clearly loved and cared for. Jordie clearly has inherited much from her mother, Bella! She's beautiful, full of fun, smart as a whip, and about as loveable as she could be! After Jordie was born we loved the fact that your children played with the pups and held them, making them all very accepting and good natured with everyone. Being raised with a family is so much better than being in a cold kennel! In our travels, as people admire Jordie, here in New York, and recently on a trip to Florida, we keep giving people your web site when they express interest in finding a Jordie of their own. We hope you don't mind.
Karen & Lynne
New York
---
Hi Kelly,
My comments about dealing with SML:
Kelly is professional and caring. I was nervous about taking on a puppy (due to allergies I had never owned a dog) and Kelly was there for anything I needed. She checks in and is willing to help in any way she is able. The joy my puppy has brought me is hard to express in words.
Thank you, Kelly.
Diane
Maine
---
DEAR KELLY,
JUST AN UPDATE ON TASSI. SHE IS HAPPY AND WE ARE TOO. FOR SOME REASON SHE HAS PICKED CHRIS TO BE HER TRAINER. I WAS ALL SET ONE TAKING ON THE RESPONSIBILITY, READ UP ON DIFFERENT TRAINING BOOKS BUT SHE STARTED TO RESPOND TO HIS TEACHINGS SO I LET HIM TAKE THE BALL. I CAN'T TELL YOU HOW BLOWN AWAY I AM AT HER INTELLEGENCE. I HAVE READ UP ON ALL THE THINGS SAID ABOUT LABRADOODLES BUT UNTIL YOU SEE IT, YOU JUST CAN'T COMPREHEND IT. AT FOUR MONTHS OLD SHE SITS, GIVES HER PAW, SITS PRETTY, DANCES, SPEAKS ON COMMAND, ROLLS OVER AND JUST YESTERDAY HAS MASTERED THE SIT AND STAY. SHE IS ALSO LEARNING TO GO BACK TO BED WHEN SHE HAS BEEN LET OUT AT 6:00 AM. WE ALL LOVE HER TO PIECES.
IF YOU EVER NEED REFERENCES, PLEASE USE US.

THANKS AGAIN
Carol
Wallingford, CT
---
Hi Kelly-
Cubby is doing very well & adjusting well to North Carolina. We always tell anyone who asks about you & SML, so it could've very well had been me who mentioned your name. We cannot say enough good things about Cubby!! He is an absolute angel -he's so eager to please and has such a WONDERFUL personality!!!! SO many people comment on how he's the sweetest dog they've ever met. He's so affectionate (a real cuddler!) and LOVES to meet new people and dogs. He's SO friendly (strangers even say that to us!!) He is very active (loves to play & interact w/ people and especially other dogs). He's no push-over when playing with "Bully" dogs, but never shows aggressiveness and has never tried to dominate to anyone or any dog.
Are his siblings the same? We've tried very hard to socialize him w/ both people & dogs, but know we cannot take credit for his sweet temperament. As far as we're concerned, Cubby was part of a perfect mating. We feel so lucky to have the sweetest dog in the world! One question for you: What are the sizes of the other dogs in his litter? Cubby is only 27 lbs (we were surprised). Have the other dogs lost their "puppy coat"? Cubby has not lost his yet --will he?
Take care,
Abby
North Carolina
---
Hi Kelly:
Hope you got our pictures of Kay-Kay. It was great seeing you at the Doodle romp. As you can see, Kay-Kay is doing marvelously well. Thank you so much for raising such a fine, lovable dog. She is in training this week and the trainer commented how smart she is and I told him it was the dogs the breeder used to produce such fine puppies. Let's stay in touch.
Bill
Rhode Island
---
How do you describe Penny? Let me count the ways….
You can't call her adorable - that is an understatement! Nor can you call her smart - that would be a gross underestimation of her intellect! And talented - well, does talented adequately describe a puppy who can catch a frisbee with her hands - I mean paws? She's all that and more - full of great energy, able to play and hike and chase a frisbee and settle down for a nice nap when it's time for quiet. But if I could choose just one word to describe Penny it would be "happy". Penny is such a happy dog - her tail is always going - really going! And she is always ready for fun. And don't even think about being "down in the dumps" - just take one look at Penny and a smile just grows from your heart!
I must confess that there is one truly insurmountable problem with this labradoodle. Wherever Penny goes, she draws a crowd. And when you walk her down the street, traffic nearly stops! Everyone wants to know "What kind of dog is that?" "She is soooo cute!"
Our family has been having a grand time raising our wonderful labradoodle puppy. Thank you to Kelly for putting so much time, energy, love and know-how into her "babies". We LOVE our labradoodle Penny.
Full of puppy love,
Claire, Jay and David
Maine
---
Hi Kelly,
Hope you and your family are well. I wanted to send you the latest picture of Dakota -- He looks so much like Bella!!! Dakota is such a good dog. He's smart and super friendly. This weekend I took him to a dog park to socialize and he got along great with all the other dogs. Everyone falls in love with him. Take Care,
Kathy
CT
---
Dear Kelly,
We are so happy with our wonderful doodle Herman. He's a sweet and loving boy, with big brown eyes and kisses that could melt an iceberg. And he's SMART! We love watching him develop day by day. Just recently he learned how to jump into the backseat of the car without help. I think he's as big as his mama Bella now!
You've been a wonderful resource for us. You prepared Herman very well for coming home with us. He knew his name, how to sit, and he knew "off" though he still chooses when to listen to that. We really appreciate how wonderful you have been through this whole process. You always have a great word of advice, a few laughs, and are so interested in how he's doing, even now. When Herman was hurt, you sent him a care package, and when we came to visit and play, you were a proud mama. We've heard about other breeders, and couldn't be more pleased with every single interaction we've had with you. You gave us all the documentation we needed, and even gave us some tips for our first weeks with Herman. He still plays with the toy you gave him when he came to us. He has not yet mangled "Mr Stuffie," but he's getting close.
We have nothing but warm praise for you and Southern Maine Labradoodles. As first-time puppy parents, we were incredibly lucky to have a breeder like you to keep us up to date on his progress and to make sure he was healthy and well-adjusted when he came to us. You were a great introduction for Herman to the world, and for us to Herman.
Many, many thanks for all your work with Herman, and with all your help and support for us.
Stephanie and Josh
Massachusetts
---
My "Labradoodle experience" with Kelly at SML has been very positive and I highly recommend her. Kelly is truly a breeder who cares about her dogs, puppies and the satisfaction of her clients. Kelly has always kept me updated about my puppy and happy to share information with me. Now about my adorable puppy…. The Labradoodle is smart, full of energy, great with kids and a good watch dog. My puppy has settled into our family beautifully and gets along great with her "big sister" (my Golden Retriever). She is comical, a fast runner and acrobat, loyal and has a sweet, loving personality. Of course she also doesn't shed. I highly recommend Kelly and her Labradoodles.
Bev
CT
---
Well, if we don't have the cutest dog. He is doing great. Doesn't like to be in the crate unless he is tired, but is learning. He is just the sweetest thing. Here are some updates.
P.S. by the way, he looooooovees the snow
Thanks,
Rebecca
New Hampshire
---
Dear Kelly, I can't thank you enough for our wonderful 'doodle Molly - she is easily the smartest dog I've ever had. I have had so many inquiries as to where we got her - hopefully you're getting lots of questions from Vermont! I would recommend you and your kennel to anyone - your professionalism and dedication to your pups is first class.
Andrea
Vermont
---
Happy to hear about Sierra's recent litter and look forward to seeing pictures. Hope you enjoyed Jordie's beach pictures. Fondly,
Karen and Lynne
New York
---
June 16, 2004
To Whom It May Concern:
Recently our family adopted the most beautiful little puppy from Kelly at Southern Maine Labradoodles. Sadie is a female from SML's Sierra, and Primetime's Yum Yum. All winter long I had been looking on the internet, eager to adopt a puppy in the spring. I checked shelters, dog rescues, and anywhere else I could think of, for a good, family-friendly pup. After awhile it was clear that a breeder was the way to go, and I had been reading a lot about Labradoodles online. They seemed perfect for our family with two small children (ages 4 and 5) and two cats (ages 10 and 16). Every breeder I contacted had a one-to-two-year waiting list, so it felt like fate when I called Kelly and heard that Sierra was delivering her litter the following week. Kelly said she wasn't sure how many puppies Sierra was carrying, but there might be enough for us to adopt one. Sure enough, with seven little girls, Sierra was able to bring little Sadie into our lives. She came home on May 1, 2004. Working with Kelly was nothing but pleasant - from the evening she called ecstatically to tell us that the puppies were born, to the basket of goodies that she prepared to come home with Sadie, to the phone call I received last week from her to check-up on how we were all doing. She is always there with experienced advice, and has a love for all her dogs that continues to grow. Knowing that Sadie spent the first eight weeks of her life with such a caring family really shows. If we ever decide to adopt a second puppy, I would not hesitate to work with Southern Maine Labradoodles again.
Most sincerely,
Tracey Brinson
Vermont
---
Hi Kelly,
Happy New Year! Violet gets cuter everyday! she has the funnest personality.....her eyes just twinkle when she is going to do something naughty. She has really slipped into the groove and loves being a part of our family. She's down to maybe one accident a day...we're so proud of her. She still doesn't get the part of running to the door but she goes every time we bring her out and is staying dry all night! she goes to bed on her own at 10pm and will stay in her crate without peeping until 6:30 or 7 in the morning. she is truly the dream baby you promised. She doesn't seem to be a big eater so far... she doesn't like to eat first thing in the morning...and kind of nibbles. she likes her lunch and dinner tho'. She hasn't taken a car ride yet...it'll happen this week when she goes to school with me and the kids. she has her first doctor's visit on Monday. I'll let you know if sh'e grown at all this week. Kelly, we feel so blessed with our our baby. She is a delight!
Hope all is well with you. I would love to hear from you.
Julie
St.Paul, MN
---
"Brades" is doing great !!!! He's been a changed dog over the last few weeks, he's maturing by the day, really no discipline issues whatsoever... everybody who visits or meets him just loves him. We are looking forward to the "nice" weather to get outside more and more. Jakes been taking him for walks after school which has been fun, we are heading out now to Caits tennis match at school with puppy in tow. We'll send you pictures (Caits dept. as Mom and Dad are a bit computer illiterate in that regard), will do our best to get to you over the weekend.
The Frazers
MA
---
View more testimonials!
Use this form to send us a testimonial to show on this page.
Upcoming Litters
Litters planned for 2023
Winnie /Archie (8 WEEKS OLD 2 GIRLS AVAILABLE)go home July 22nd

Maple/ Archie Born June 12th (5 WEEKS OLD. 3 AVAILABLE) go home August 11th

Stella /Fall - Winter

Maya/Fall - Winter

---
Check Back Again for More Labradoodle Puppy Announcements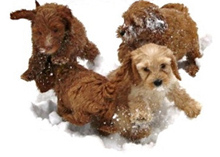 "There is no psychiatrist in the world like a puppy licking your face."
–Bern Williams
Read Testimonials »