Lyman, ME | (207) 499-2989
Feedback and Testimonials
---
Happy Birthday Kelly. Dakota is the best birthday gift ever. We are so in love with him. He is such a good puppy. I am so happy he is a part of my life. Ill write more. When I'm back in the office. Have a great day.
Kathy
CT
---
View more testimonials!
Use this form to send us a testimonial to show on this page.
Upcoming Litters
Litters planned for 2023
Winnie /Archie (8 WEEKS OLD 2 GIRLS AVAILABLE)go home July 22nd

Maple/ Archie Born June 12th (5 WEEKS OLD. 3 AVAILABLE) go home August 11th

Stella /Fall - Winter

Maya/Fall - Winter

---
Check Back Again for More Labradoodle Puppy Announcements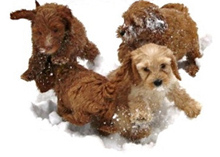 "There is no psychiatrist in the world like a puppy licking your face."
–Bern Williams
Read Testimonials »