Lyman, ME | (207) 499-2989
Southern Maine Labradoodles Blog
Today Piper was pacing and going out every hour. She could not set still. Tonight we gated her in a 6 foot area with her whelping box. She threw up alot of water and was pushing for 2 hours. The puppy was a tough delivery.  Piper was a champ. After he was born she tried to bury him under the blankets. He is now resting in a box with a heating pad.
9:30  blue collar apricot boy
 10:23 apricot green collar boy
10:35 apricot  pink collar girl
11:30 red boy. Red collar
Piper slept, ate  and had water.  She is a restless momma. She paces and stands to deliver.  I have never had a girl stand everytime she delivers. 
 12:57 apricot girl purple collar.
She is chilling. Karina and are are telling her to move this along. LOL. I have puppy pick ups starting at 11 today and at this rate I might get to nap at 8 am. 
1:40  apricot boy light blue collar. She pushed really hard for him 
2:20 apricot girl yellow collar.  We are all beyond tired.
4:25 redd girl orange collar.  
Do not fall asleep. One more to go.
4:43 girl black collar
Piper ate again. Now to do laundry get her out to the bathroom, settle them all in, clean up and get a couple hours sleep.
Upcoming Litters
Litters planned for 2019
Lucy and Gunner born 4/1/19
Abby and Raphael due 4/23/19
Luca and Gunner due June 3rd
Sammi and Gunner June 13th
Poppi Summer 2019
---
Check Back Again for More Labradoodle Puppy Announcements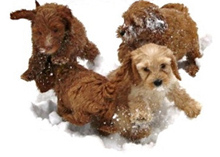 "There is no psychiatrist in the world like a puppy licking your face."
–Bern Williams
Read Testimonials »